Installation of Carbon Brushes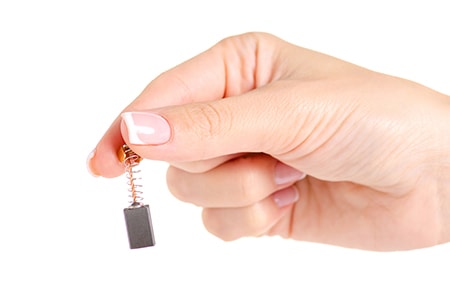 Most appliances have motors and most motors have carbon brushes. Our goal at House of Balance is to keep our clients' machines and businesses up and running, and the most common thing to stop a motor is a worn carbon brush. Prevent that loss of time and money with new carbon brushes installed by the certified technicians at House of Balance. Brand-new equipment has to meet a certain threshold of quality and safety, and we will ensure that threshold is met.
Made of a softer material than the other components of a machine, carbon brushes are built to wear down over time. Also known as motor brushes, carbon brushes transmit electrical currents from static to rotating parts in a generator or motor. Choosing the right carbon brush and proper installation thereof is critical, and therefore should be appropriately prioritized. At House of Balance, we can promptly and precisely install the following 5 main grades of carbon brushes and more:
Electrographitic Brushes (EG)
Carbographitic Brushes (A)
Soft Graphite Brushes (LFC)
Resin-Bonded (Bakelite Graphite) Brushes (BG)
Metal Graphite Brushes (CG, MG, or CA)
To ensure a long life-span and proper functionality for your carbon brushes, regular inspection and service is a smart investment. In addition to repairs and installations conducted at our EASA Certified full-service motor shop, our company also offers a Predictive Maintenance Program where we bring our expertise and diagnostic tools right to your plant.
House of Balance employs certified and passionate technicians, who all have a variety of skills that enable us to provide around the clock service for the Mid-Atlantic area and beyond. Our clients are people who understand the value and trust that accompany contracting with a small, specialized, family-run business. House of Balance is here for you with expertise, reliability, and stellar customer service — all at a friendly price. We build relationships with our clients. Questions?
Call Us
today.