Thermal Imaging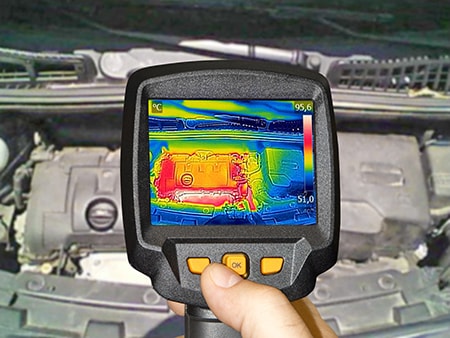 House of Balance can use thermal imaging to identify problematic electrical and mechanical components at your facility. Using infrared inspection, abnormally hot or cold areas can be observed when machinery is tested under normal operating conditions. This is a powerful predictive maintenance tool, because equipment failure is often preceded by an increase in heat. This is especially true of electrical equipment. With thermal imaging, we can identify overheating machine components or electrical connections before failure takes place. A mechanical breakdown is a costly enterprise, taking into account a loss of productivity in addition to repair costs. We seek to prevent that problem for our clients. We also create a repair plan that is as efficient and economical as possible, scheduling service during a time that is optimal for you. Reliability, productivity, and efficiency are what you can expect from us.
Thermal imaging cameras are devices that translate heat into visible light, so that we can analyze the heat signature of a particular object. The image produced is known as a thermogram and is analyzed through a process called thermography. Based on the images, we can develop a diagnosis for your equipment and determine the best course of action for repair. Thermal imaging cameras take measuring temperature to the next level; instead of getting a number for the temperature you get a picture showing the temperature differences of a surface. House of Balance thermography services are relied upon by major manufacturers and industries including:
Automotive
Aerospace
Electrical
Electronic
Military
Medical
Thermal imaging is a key element of a tech-forward Predictive Maintenance Program. When you engage the thermographic diagnostic experts at House of Balance to implement a Predictive Maintenance Program at your facility, you are gaining on-line detection and diagnosis of machinery problems. Early detection means that we can address defects while they are still minor problems, before they affect machine or plant operation. Maintain your machinery at a level where it will meet or even exceed its expected service life. Reduce your long-term capital investment in new machinery by properly protecting the machinery you own. House of Balance can help.
From car racing hobbyists to major manufacturers to government entities — our clients know that their relationship with us is built for the long-term. Prompt on-site thermal imaging, expert analysis, and stellar customer service, all at a competitive price. Wondering if we can service your location?
Give Us a Call
.