Removal & Installation of Motors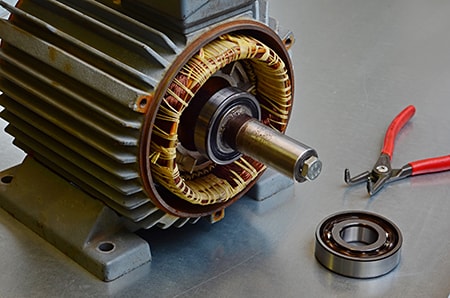 At House of Balance, we offer the services of a complete motor, pump, and machine shop all under one roof, and we can bring that value directly to your door. Because we prioritize customer service above all else, we chose to invest in portability for our technicians and our tools. When we are working with clients from various industrial and manufacturing sectors, we understand that time is critically important. When your motor needs maintenance, we can remove it, repair it, and install it with expert, turnkey service. Once reinstalled, motors will be laser aligned and vibration analysis will be conducted to ensure proper operating conditions. We pride ourselves on the fact that when your equipment is under our care, we return it to you like new. We specialize in:
Cooling Towers
HVAC Systems
Supply Fans
Return Fans
Air Handler Units
Exhaust Fans
Blowers
Compressor Motors
At House of Balance, we have evolved and expanded beyond our beginnings in the auto racing world. Our work today is even more thrilling to us — we are at the forefront of technological innovation within industries upon which the United States rely. Our technicians are trained and certified professionals who love their work. The schedule flexibility that we offer to our clients also applies to our staff, so that they are able to do their jobs to the absolute best of their abilities. The drive and commitment that our environment fosters enable us to consistently meet or exceed completion schedules and deliveries. With in-the-field motor removal and installation, we can have your motor disassembled, inspected and quoted for repairs within 24 hours.
House of Balance takes great pride in conducting business with the highest standards of employee safety. Our goal is to continue to have a safety-conscious and injury-free work environment every day. Our staff is aware of the dangers inherent to our job, which is why we prioritize safety. We understand and adhere to the importance of personal protective equipment, lockout/tagout, confined space entry, fall protection, hearing conservation, and hot work permits. House of Balance's NCCI Experience Modification Factor is 0.82, which is 18% better than the national average.
Our clients are people who understand the value and trust that accompany contracting with a small, specialized, family-run business. We are conveniently located in Central Maryland, but we can and will travel to Pennsylvania, Virginia, West Virginia, Delaware, Washington DC and beyond. From car racing hobbyists to major manufacturers to government entities — our clients know that their relationship with us is built for the long-term. Prompt on-site motor maintenance and stellar customer service, at a competitive price. Wondering if we can service your location?
Give Us a Call
.